Abby Lee Miller had her hands full in Dance Moms 8×03. Not only did she create a very political group dance, which focused on the frequent "thoughts and prayers" response to mass shootings; but she also had to deal with some rather bratty behavior from Joanne and Gianina Paolantonio. After beginning Dance Moms season 8 with two big wins, the ALDC needed to keep up their winning streak. But with Lilliana Ketchman as the lead in a very serious group dance after some early-season struggles, did the team take on too much in week three?
Check out our Dance Moms 8×03 recap to find out!
Abby Lee Miller opened Dance Moms 8×03 with congratulations for her new team—but not without a qualifier:
I'm proud of all of you, but I'm not proud of all of your mothers.
Before pyramid could even happen, Abby needed to remind her newest dance moms what would and would not be tolerated. And the big no-no? Erin Kristich's "despicable" behavior at the previous competition. Erin attempted to defend herself by reminding Abby that Michelle Georgiana had called her a bad mom, but Abby was, overall, unimpressed.
Never one to just shut up and move on, Joanne Paolantonio offered some advice for the other dance moms…
If you can not handle this atmosphere, go home.
…but given how the rest of Dance Moms 8×03 turned out, I'd say it's Joanne and Gianina who need to consider that particular word to the unwise. Never fear, though, Brady Farrar was ready with a much more valid assessment of the situation.
The kids are definitely better at getting along than the moms. I think that if all the moms maybe have a drink or two, they'll be fine.
Too bad getting trashed together never exactly helped matters for the original dance moms. Better luck next time, Brady. (Side note: That bowtie is cool.)
Dance Moms 8×03 pyramid. Last week's drama temporarily settled, Abby called the dancers back for her weekly pyramid session. Because she "did the right choreography at the wrong time," Hannah Colin was the absolute bottom. Joining her on the lowest set of slots were Gianina Paolantonio and Brady Farrar (the audacity), because not enough people were talking about them after the competition, and Sarah Georgiana because of her "incorrect training."
Meanwhile, Abby was boasting about Sarah's "Pittsburgh girl" credentials in one of the first two Dance Moms season 8 episodes; so, does "Pittsburgh girl" mean bad technique? Things that make you go "hmmm."
In a totally backhanded compliment kind of moment, Pressley Hosbach was the first dancer to make the middle row; Abby told her she did an "outstanding" job for someone without great flexibility or technique. Ouch.
And despite winning first place with her beautiful solo in week two, Savannah Kristich did not make top of the pyramid. Abby told her to blame her mother.
Thanks, Obama Erin.
So, that left only one dancer to claim her earned spot at the top of the pyramid: Lilliana Ketchman. Even though she only placed second and spent the ending moments of Dance Moms 8×02 in tears, Lilly's "facial expressions wowed everyone." For Abby Lee Miller, given the actual first-place winner's mama drama, that was enough.
Joanne and Gianina Paolantonio, however, didn't understand Abby's reasoning. Too bad! This is the ALDC, not the GPDC!
In an effort to get the two dancers to prove themselves, Abby's assignments for Dance Moms 8×03 included solos for Gianina and Hannah. Additionally, a "Thoughts & Prayers" group dance—with all dancers participating—was in the works for Dance Moms 8×03.
Abby Lee Miller takes on thoughts & prayers. Abby warned the moms that "Thoughts & Prayers" was "probably the most serious routine [she's] done," and she asked if the phrase resonated with anyone. Ashley Hosbach was the first to speak up, pointing out the painfully—and, quite frankly, unacceptably—obvious:
Mass shootings. I feel like that's where I hear that the most. And everybody wants to just say, "thoughts and prayers," and then, a couple of days later, everybody moves on like it never happened.
So, in case anyone was wondering if Dance Moms season 8 was going to continue the tradition of including some actual reality in that "reality" tv, Dance Moms 8×03 had your answer: Yes.
Abby Lee Miller wanted to create a group number that showed both sides of the "thoughts and prayers" versus "no more thoughts and prayers" discussion of the mass shootings that are a disgusting part of American culture; and throughout the episode, moms and dancers alike showed how deeply this issue affects them.
Ashley made it clear that she was of the "no more thoughts and prayers" persuasion; Ann Colin, on the other hand, was a big stickler for not discounting the power of prayer. Considering all politicians ever offer after these mass shootings are their "thoughts and prayers," while people—more often than not, kids in school—either die or are permanently traumatized, I'm not here for that nonsense. Nobody's saying you can't believe God is going to magically put a stop to all of this whenever enough suffering becomes enough; the point is that continuing to fail to take action on a human level is killing people. 
And, as far as I can tell, most of the moms—aside from Ann—are in agreement.
You're supposed to send your kids to school to be a safe place to learn, but it's almost like we're getting used to it. I mean, it's an epidemic, and something has to be done.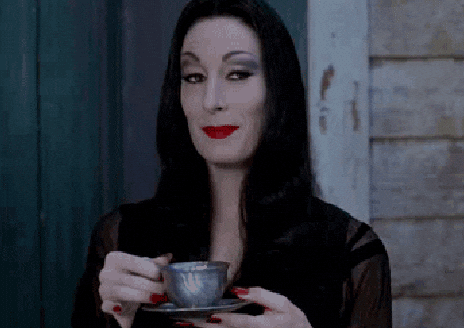 Michelle called the thoughts and prayers "an empty solution," and if you've ever wanted to see why that empty solution exists, follow the money trail. Igor Volsky does a good job of tracking the quick responses from politicians after these tragedies, and they all have dollars and cents in common. All.
…and it's been going on for years. The farther back you look, the more this pattern emerges. And it's why, no matter how far forward in time we move, we'll probably be stuck in the same cycle.
In Dance Moms 8×03, when Ann thought that her faith was being attacked by people who were no longer satisfied with this particular response to people kill people gun casualties, Stacey Ketchman reminded her that prayer needs to be accompanied by action.
Even if you believe in God, like, God helps those who help themselves.
During rehearsal, Abby explained to her dancers that the group number was "about the power of protest." In several of her Dance Moms 8×03 interviews, she expressed her fear that she might offend people, thus causing the team to miss out on an otherwise-deserved win.
My biggest fear with this routine is that the judges, as well as audience members, will be offended by it. This could all backfire on me, but I am teaching them that their artistry can be a statement on the stage. And that's what I'm known for: Whatever the subject matter, I want to make people think. And I want to prove, that after all I've been through, I've still got it."
At one point, Abby was so stressed out that she looked into the camera and asked, "why did I do something that was political?"
But you know what? Art has always been political, and too bad for anyone that isn't sick of seeing their loved ones dying because they went to school, or went to a move, or to church, synagogue…literally anywhere. Fear of being offensive is no match for the fear of hiding in a cabinet while your school is on lockdown—something that actually happened to Erin's kid.
Mom, we're having a real hard lockdown. People are screaming. Someone bad is at my school. I'm hiding in a cabinet. If something happens, I love you. I'm sorry for everything I'm done.
If you've ever received a text like this from someone you loved and aren't offended by inaction, I don't know what to tell you. Neither, it seems, does the ALDC.
The regular Dance Moms drama. It wouldn't be Dance Moms without at least one person behaving badly; and in Dance Moms 8×03, those someones were Joanne and Gianina Paolantonio. There's a reason this episode was called "The Broadway Brat," and that reason is because our "professional" spent a ton of time complaining about her solo.
Apparently, Gianina is too good for "cheesy" jazz. So, here's a newsflash: A truly good dancer has an appreciation for all styles and can make anything into a winner. Just like Stacey Ketchman was wrong for being totally against Lilly doing acro, Joanne and Gia were dead wrong about throwing a fit over a jazz solo.
While Gianina was whining, Hannah Colin was working on becoming a unicorn; but Joanne was convinced that she wasn't a threat. Even when Joanne admitted that her daughter had been crying about her less-than-appreciated jazz solo, though, she refused to believe that anything other than a win was in her future. Gianina was, after all, Miss Perfect Professional. (It's not bragging; it's facts.)
The drama continued right through to competition day, when Gia told the entire dressing room full of moms and dancers that she could only do her best and hope to come out on top.
…because [Abby's] words don't matter. Her opinion doesn't matter.
I'm sorry, but what? Girl, no. You don't disrespect Gianna and Abby like that!
You know what's cheesy? Being too good for an entire style of dance, then kissing ass by telling your teacher how much you "love" the very same solo that you've whined about for days. And you know who did that in Dance Moms 8×03? The "professional."
Also, Joanne's comment about how her daughter "doesn't do sassy jazz" was, um…not helping. Neither was telling everyone to look at the definition of perfect to see her kid's face. (Especially considering how her solo went…but we'll get to that later.)
As unimpressed unicorn, Ashley Hosbach represented the mood—and failed to let Joanne and Gianina get away with lying to Abby about how much they loooooooved her work. Once Ashley told Abby Lee Miller about how "cheesy" the others found the solo, Abby let loose.
First, there was her line about brats.
I don't appreciate some 13-year-old kid talking about my choreography or Gianna's. I don't want a brat on my team. I do not raise brats!"
(Joanne: "Gia's not a brat, so…" Me: Lol ok. That's not how Dance Moms 8×03 is playing it!)
And then, there was the first "save your tears for your pillow" rant of Dance Moms season 8:
Stop crying! Stop it! There are little kids that can't afford to take dance class. There are children dying of cancer! Do you understand that? There are kids that don't have legs that can't even dance! You should be grateful for these opportunities; you should be grateful that you have a mom and dad that can put you into these things, and leave work, and come and deal with this every weekend. There's kids that are in pain, kids that are being kept alive on a machine. And you're crying? You have issues. At home. You need to fix them.
Now, we all know that "reality" tv isn't always more tv than reality, so it was hard not to feel bad for Gianina as Abby laid into her—crappy attitude or not. Luckily, Brady Farrar was there to offer her some support in the form of a drink a hug.
With that, it was time for some solos.
We dance here! Let's talk about the Dance Moms 8×03 solos!
"The Last Unicorn," lyrical solo performed by Hannah Colin. Hannah did a really good job on this solo, but was she a unicorn? Jury's out. For someone whose mother will never let her talk—and feeds her lines on the rare option that she does let her get a word in—Hannah Colin is absolutely not a timid or inward dancer; she just needs even more of that outward performance energy. The very ends of her toes could stretch a bit more, too. (An odd correction for me to feel the need make since dancers on this show are usually focused only on their toes, as opposed to stretching the whole foot.) 

Result:

2nd place. And she's super delighted that her hard work "paid off in the end."
"Rich Girl," sassy/cheesy jazz solo performed by Gianina Paolantonio. Ok, so, here's the thing: If you're going to parade around and claim to be perfect and/or above your choreography, you have to actually deliver. Gianina…did not. For all of the talk about "sassy" jazz, this solo had just about zero personality. It's almost as if Gianina was just going through the motions because she didn't like the style—and no, sticking your ribs and low back out doesn't count as "sass." Then, there's the biggest technique issue: Every single turn was done with a little bit of a loose knee and a lot of falling back into the standing heel; at one point, it was so bad that Gianina fell out of a connecting step. Abby Lee Miller also picked up on this (as she does).

Result:

4th place.
Back in the dressing room, Abby told Hannah that her solo was "beautiful" before offering Gianina some advice.
I think maybe if you worried a little bit more about the technique and leave the choreography and the style to us, that would be fine.
Realistically, Gianina Paolantonio wouldn't have her resume, much less the confidence that comes with it, if she wasn't super talented. So, even with her brattiness in Dance Moms 8×03 and her less-than-stellar solo here, I'm positive she can learn from this and move on.
And time for the group!
Abby gave the ALDC one last pep talk in Dance Moms 8×03; in it, she reminded everyone how very serious the subject matter of the group dance was.
"This group routine could offend everyone," she warned.
And moms, just to prepare you all: Be ready for the backlash.
"Thoughts & Prayers," contemporary ALDC group dance. I don't think I've ever seen an Abby Lee Miller/Gianna Martello piece that attempted to tackle a sensitive subject and wasn't moving; this Dance Moms 8×03 group dance hasn't ended the streak either. From beginning to end, these dancers killed it; and after a rocky start to Dance Moms season 8, Lilliana Ketchman absolutely slayed. I can not get over how much extra these kids put into this piece. It was evident in the improved technique and artistry across the board—and it's only week three!—and, most importantly, the sense that Abby's kids were dancing as a true team for the first time. My only hope is that they keep up that level of commitment and continue to improve.

Result:

1st place!
The final drama. After awards, the ALDC headed back to the dressing room, where Gianina Paolantonio attempted to apologize for her earlier behavior. The problem was that she kept talking about "twisted" words, when the moms had (at least as far as anyone outside of that cast knows) directly quoted her earlier in the day. Abby Lee Miller left her with with a warning: She might be the first person cut from the team.
You are definitely in the doghouse. If you're going to be nasty, or feisty, or a brat, do it on stage. When it counts. When you're playing a part. Not in real life. I will not have it.
Will Gianina get redemption? Will Ann ever let Hannah speak? And how long will it take for more moms to snap?
Find out as Dance Moms season 8 continues to air on Tuesdays at 9/8c on Lifetime.