Dance Moms season 8 premiered with a full night of Abby Lee Miller's quotable moments, choreography, and of course crazy mama drama. Following a special that detailed just how much suffering everyone's favorite destroyer of sloppy feet has suffered in the past year or so, Dance Moms gave us two full episodes of the type of content that we all know and loathe love. But can the new ALDC hack it?
Check out our Dance Moms season 8 premiere recap to find out!
The fighter returns. I wasn't even going to recap this part of the evening because, frankly, dragging someone's cancer journey for entertainment value isn't exactly on my list of fun things to do. But, if we're being perfectly honest here—which, when are we not?—it bears mentioning that I was beyond impressed by how vulnerable Abby Lee Miller allowed herself to be here. She's the lady that loves to fight with dance moms and scream at kids, the one who tells everyone they're replaceable and doesn't care whose feelings she hurts, but (surprise!) somewhere under there, there's a human being who went through the kind of absolute hell that I wouldn't wish on anyone but Donald Trump and friends.
Who knew!
So, here are some things that stood out:
The wigs, the lack of makeup, the sense of seeing Abby at rock bottom (although, I'm guessing things got much, much worse than what we saw), and the shots of the fearless ALDC leader struggling through the small victories in therapy.
"This was like a hot knife stabbing you in the back over, and over, and over. Believe me. I've been stabbed in the back enough to know." The personality's still there! And also, the part where Abby said people didn't believe her about the pain? That could've killed her.
"I wanted to die. I did…I felt like I had no reason to live."
"Because dying is easier than this." I absolutely felt this like a punch to the gut when Abby said it was her reason for not wanting the three additional rounds of chemo.
"If I can't do the things I love, that make me happy, then that's not living." Relatable.
Say what you will about her (and we're going to say it), Abby Lee Miller has been through hell, and it's no small feat that she's back for Dance Moms season 8. Now, with no further ado, back to your regularly scheduled drama.
And so it begins. Dance Moms season 8 comes to us courtesy of 1000s of audition tapes and plenty of tears, and after a brief introduction to our new ALDC (a more thorough version is found here), it was time to get back to the hard work of throwing numbers together for competitions with five whole seconds of preparation time. Unlike last time we went on this journey, the kids knew what to expect: Gianina Paolantonio, for example, has been "chasing this dream [her] whole life," even though she's 13 and Dance Moms has only been around since 2011.
Math is hard.
What's harder than math? Getting a word in if you're Hannah Colin. Her mom, Ann, is so good at speaking for her that she probably scares even all the other helicopter stage moms. If there was a pyramid for "most mom likely to give her kid a complex," Ann would probably be on the top of it.
And speaking of pyramids, Abby faked everyone out by showing us the turned-over cards and then…not actually having pyramid. She did, however, offer the new ALDC and their dance moms a warning: Don't think you're safe. And make sure you're a team player.
I need group dancers—not soloists—so you gotta get that out of your head right now.
Yeah, that'll go over well. And then everyone's favorite!
Everyone's replaceable. Remember that.
As if we could ever forget!
Three days to competition. Because the group dance was going to be about broken hearts, Abby wanted to make sure her dancers knew what one looked like; so she yanked her still-beating heart out of her own chest and showed it to them as a sacrifice. In case anyone was wondering, Abby Lee Miller can, in fact, remain alive without vital organs; the heart is a useless one anyway!
While the kids were getting their first anatomy lesson of the season (please let it be their last), the new moms were having a "very caring" moment to gossip about everything Abby had been through over the past year. Gianina's mom, Joanne, was not impressed with how "overly dramatic" they were all being, and she wondered if the dance moms were all just being fake.
My guess after seven previous seasons of this shit: Absolutely.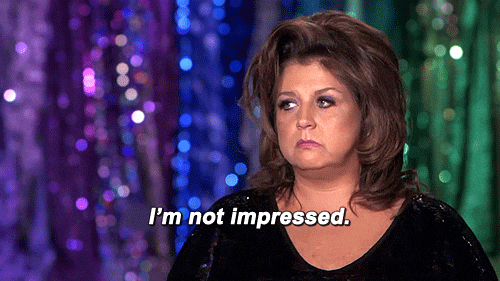 Even more fake: Stacey Ketchman's completely out-of-the-blue decision to start shit with Michelle over whether or not Sarah Georgiana was actually a title winner because, apparently, there were rumors about Sarah not competing at the highest levels. Michelle could sense that Stacey thought Lilly was better than her daughter, especially after all of the "dancing down" accusations.
And I'm just like…who cares? People game the competition system all the time. Anything to get those trophies that mean absolutely nothing later in life!
Two days to go! Not to be outdone in the "literally nobody wants to hear you brag about your kid" department, Joanne wanted to let everyone know that she wasn't bragging about her daughter, Gianina Paolantonio; and she made sure we knew that by…bragging about Gianina.
I don't need to brag about Gia. I let people brag for me.
Ok but why did you rattle off 99 of her jobs when the other dance moms didn't like hearing Abby Lee call their daughters "backup dancers" then? Right. Bragging. To keep up the Paolantonio tradition here, I'll end my statement with "fact" because that totally makes it a fact.
Side note for Gia? The point in being shy is that it's literally just a part of who you are, and you have no control over it. Not everyone has Mommy feeding our ego with "facts," by the way.
Another fact: Stacey spent most of the Dance Moms season 8 premiere trying to be a stand-in for all those long–lost dance moms. She even pulled the Original Mom card by telling the newbs that they "don't know what it was like before" and crying about her baggage, as if literally every single one of these mothers hadn't watched the original series with their Abby Lee Miller stan daughters. Come on, now.
"She didn't come back to still be seven years old. She's ten."
Ok, but is Stacey still a child?
One day 'til the big one! With only one day left until their first competition of Dance Moms season 8, Abby made sure to remind the ALDC that their performance was all about her comeback and her reputation. Forget the fact that every single dancer here already has a pretty impressive reputation…
Before getting back to rehearsals, the dancers had to prove to Abby that they'd done their homework of bringing her a heartbreak story. Hannah Colin took a beat before answering the question; but then she opened up about the death of her great-grandmother, who always came to watch her dance before dying at age 101. In a poorly-edited attempt at offering comfort and empathy, Abby reminded Hannah that 101 is "more years than most of us get" and shared the ages at which her parents had died.
You never know. That's why you live each day to the fullest. Because you don't know.
And at that point, in a tearful moment, Abby took off her wig and showed the ALDC her surgical scar.
We again have to interrupt your regularly-scheduled snark to bring a very real moment to the conversation.
But then it was back to business! Hannah's mom reminded us that Abby's "one strong lady," and when asked what Abby sharing her scars with the dancers really meant, Stacey Ketchman spoke from a place of true experience and baggage:
She really wants that win.
She's probably not wrong, but I'd also like to believe there's at least a little bit of reality involved in that Dance Moms reality tv moment. But lest we worry that Abby is any less Abby now that she's nearly died and returned to tell the tale, she offered us this gem:
I'm so sick of all this crying, I'm going to stab my own self in the heart.
That's our girl!
The final practices before getting on the bus were majorly stressful, especially for Hannah. She looked like a deer caught in headlights for most of the Dance Moms season 8 premiere, and it didn't help for one single second that her mother had no idea how to shut up. There was also that whole maniacal laughter thing? I'm concerned. We should all be concerned. "Mama Ann," as Gianina and Joanne call her, is just…if she's cracking this early, she truly shouldn't be on Dance Moms.
Meanwhile, Brady Farrar's advice to his own mother? "Stay quiet." Instant favorite for Abby Lee Miller, am I right?
Competition day! The Abby Lee Miller was worried about what kind of welcome she'd get when she got to Red Bank, New Jersey for Starbound Talent Competition; but she had no reason to be. It was the same fangirl mob scene as ever. And how did Abby feel about that? "Like Rocky at the top of the steps."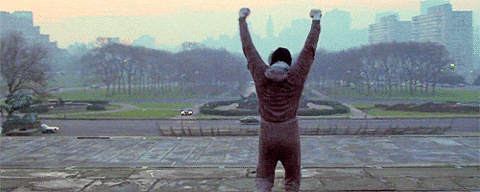 Even if a lot of people want to see the notoriously harsh dance teacher fail, I'd say there are more that are far too wildly entertained and/or shocked at what she's been through to actively protest her arrival at a competition.
That's be an interesting moment for Dance Moms season 8 if it happened, though…Producers, call me!
Dance Moms wouldn't be Dance Moms without some dressing room drama: This week, it was a rehash of Stacey and Michelle's spat over whether or not Sarah Georgiana was used to competing at the right level. And then there was more of Ann being…Ann. She went hardcore obsessive when Hannah received a couple of last-minute corrections from Abby, who she claimed was "picking on" her daughter. If she thinks that's picking, she might be the only person on Dance Moms season 8 who has never seen a single episode of the original seven seasons. Good God.
The actual dances! Finally!
"Dance with the Devil," 

jazz trio performed by Gianina Paolantonio, Savannah Kristich, and Hannah Colin.

 (Aka, "The Devil & The Backup Dancers," per Abby Lee Miller herself.) If Gia is going to be all "omg being shy is lame" and all of that, I'm going to need about ten times more attention to continuing movements all the way through to the end. Case in point: Milk that pique arabesque at the beginning, girl!!! As usually happens with Dance Moms trios, the spacing died a bit there—particularly in the fouette section, after which it looked like the Devil kind of stumbled on the connecting step immediately following. 

Result:

 First place anyway.
"The Favorite," acro (oh no!!) trio performed by Lilliana Ketchman, Sarah Georgiana, and Pressley Hosbach. This had way more personality than the previous trio and quite a few snapshot moments that looked like it could have been a ballet. Unfortunately, those were often followed with a complete loss of attention to detail (check out how everyone went from a nice fifth to…I don't know what in the jumps immediately following the pose). Lilly had a rough time out there; she stumbled out of her side aerial, then tried to cover it up. But all that did was make the mistake more obvious because her timing outright died from there on out. Abby Lee Miller was disappointed (same). 

Result:

Third. How dare.
"Broken Hearts," contemporary ALDC group number. It was next to impossible to take my eyes off of Brady Farrar during this thing. And no, it's not because he's a boy. It's because he's good, and he definitely took Abby's 2983743 "use your face" notes. Imagine actually listening to corrections. So many folks can't relate! The problem with being magnetically drawn to Brady was that it was pretty easy to see Sarah's sloppy knees as she was coming down off of his back (maybe don't throw shade at Lilly for making mistakes next time), though. There was great emotion from everyone on that stage; Pressley, in particular, was one of the rare folks able to drag my eyes away from Brady because she had the feelings down. Then, the group dance ended on a huge, emotional moment…just in time for Ann to ruin the effect by loudly talking about her kid's tears from the audience. Woo!

Result:

First overall junior group. Welcome back, Abby.
Post-awards dressing room nonsense. More whining about acro from Stacey. Clearly, it was the style's fault that Lilly made mistakes; and Stacey just didn't know about that there acro stuffs anymore because of it.
Abby was over it (same).
You don't know about a lot of things anymore, and you probably never did. I don't tell you how to do your job. Don't tell me how to do mine.
Poor Lilly was mortified that her mother was acting this way and told her she couldn't believe she'd just said that (I could)…And then it was time for an Abby Lee Miller motivational talk about how not every dancer was a winner, even if the ALDC won on the day.
The real competition starts next week.
Starbound is fake. Got it! Click here for part two of our take on the Dance Moms season 8 premiere!
Dance Moms airs on Tuesdays at 9/8c on Lifetime.